Summer Art Salon
8/3/2023

Works on paper, "Splinter" (above) and "Whirl"
are currently on view at the Silvermine Art Galleries
Summer Salon, New Caanan, CT.
July 22- August 24th, 2023
---
Upcoming Exhibit
5/9/2023
"Mapping", Oil on linen and panel
is on view at the Bower Center for the Arts in Bedford, VA.
This is a national group exhibition of works selected by artist Ray Kass.
Opening May 9th - June 17th 2023
---
10 x10 x 10 Exhibition Catalog
11/17/2022
"Transpire I" is the frontispiece for the 10 x 10 x 10 Tieton Arts Exhibition Catalog.
---
Upcoming National Paper Art Exhibition
6/15/2022
Three of my works on paper will be on view opening this July in Bedford VA
at the Bower Center for the Arts. This is a juried exhibition with works selected by the artist Robert Stuart.
Dates: July 6th - August 20th, 2022

Image: "Between the Saplings", Gouache on paper, 2021

* Update*
I am pleased to share these three works received "2nd place for Body Of Work" from the Juror, Robert Stuart.
---
2022 Summertime Exhibitions
6/14/2022
I will be exhibiting "Transpire I" in the upcoming "10x10x10" Tieton Arts and Humanities exhibition opening August 6th - October 9th, 2022 in Tieton, WA.
This exhibit was juried by Bruce Guenther.

Two works on paper will be on view in "The Summer Show" at the Sharon Historical Society in Sharon, CT opening on July 16th - August 26th.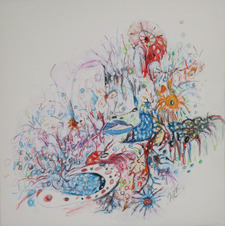 "New Bloom", Gouache and color pencil on paper, 8" x 8"

"Memory Mist I" an oil on paper is currently on view at the Silvermine Galleries Viewing Room in New Canaan, CT as part of the Guild Summer Salon from June 25th to August 18th.
---
Works on View in "Elements"
5/4/2022
Three works on paper are currently on view in the exhibition "Elements".
Juried by Scout Hutchinson, Whitney curator fellow for the BWAC
Dates: April 30th - June 5th, 2022



Image: "River Rise", Gouache on paper, 2021
---
Recepient Works on Paper Award
10/5/2021
I am pleased to share "Untitled Stretch" has received the Harlow and Lila Blum Works on Paper Award from juror Jim Shrosbree and the Buchanan Center for the Arts.